The Ultimate American Education Data File
From Rising Juniors & Seniors to Enrolled College Students to Continuing Education and Professional Certifications
My Education Compass has quickly turned into an industry-leading resource, bridging consumers with incredible updated information, ways to save better your education, and bringing knowledge to your doorstep.
This means that YOU receive up-to-date information on all things education-related whenever and wherever you need it!
Are you trying to reach rising juniors and seniors and possibly attract their parents to the right education field for their child? Or are you trying to reach currently enrolled college students? ADS has the best quality data on all the students or clients you may need!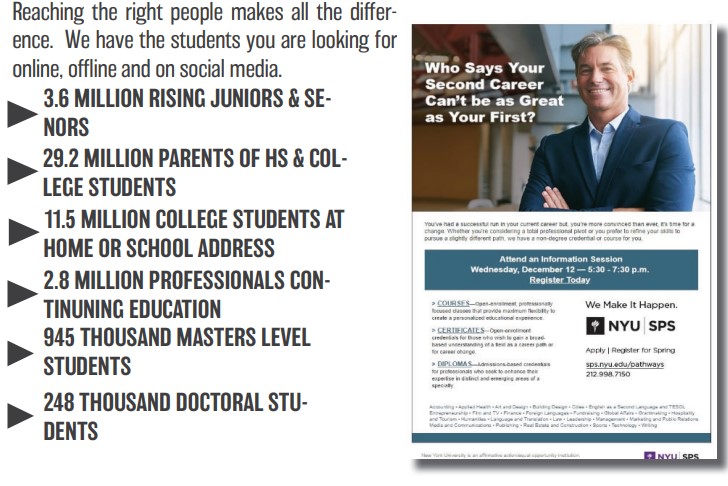 ADS Data Direct ALSO…
Here at ADS Data Direct, we don't ONLY focus on those getting into college for the first time, but we also take pride and interest in those who wish to further their education. This means that you receive a wider range of data, and even more, clients are genuinely interested in your products/services!
OBJECTIVES
Our objectives include Hispanic freshmen and what they may need to further their education! 
This includes:
Increase laptop sales targeted at Hispanic markets in major DMA's to reach college-bound Hispanic Consumers
CHALLENGE
The challenge was how ADS Data Direct could reach these consumers and their influencers to drive direct sales.
SOLUTIONS
ADS Data Direct utilized its College Bound data by isolating its rising SR's (defined as High School Seniors going to a two or 4-year college) in each DMA indicated. We maximized brand awareness and drove direct sales by utilizing ADS' Digital Plus Solutions.
STRATEGY
We identified our target market and utilized our digital footprint to drive impressions to send a targeted offer to Hispanic households in their selected DMA's. Utilizing email as the first engagement model, ADS Data Direct initially mailed two offers:
1) Back to School Discounted program
2) Parent Discounts for Students going off to College.
Each Ad had bilingual options with English as the first language, and Spanish has a clickable option for the "view in browser."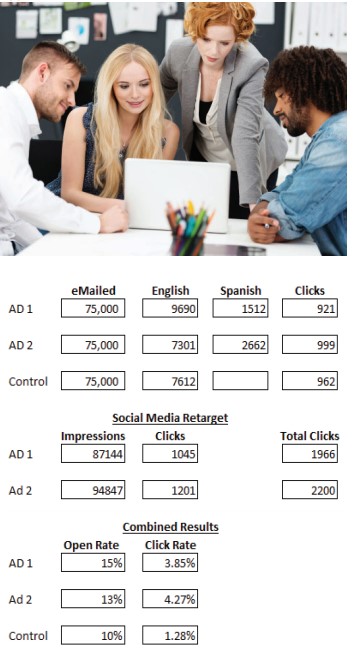 Ad 1 targeted Rising Seniors and Juniors
Ad 2 targeted parents or guardians.
Consumers who opened the Ads were retargeted on Social Media. With a match rate of 47.3% of emails to the Social Media sites, ADS delivered 100,000 impressions. For each consumer who clicked on the Ads, we delivered 20 impressions each.
OUTCOME
Clients reported an increase in response rates by 36.3% – 49% based on the omnichannel approach. Rising Jr.'s & Sr.'s utilized the English version campaign by 95%, and the parents used the English version by 72.6%. The ADS omnichannel approach (Digital Plus) outperformed standalone DTC email campaigns by over 48%.
IN ADDITION
The client has continued to run similar promotions each semester for the last three semesters. In addition, the program has expanded beyond the Hispanic Market, employing omnichannel solutions to reach college-bound seniors and their parents.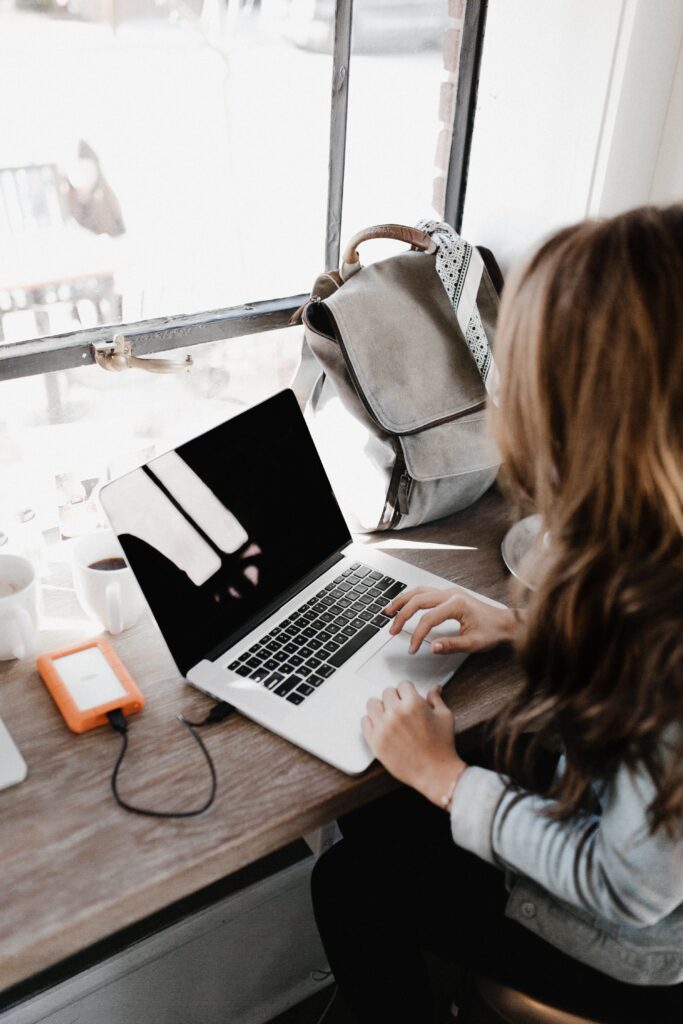 What Does This Mean For Your Education Business?
This proves that ADS Data Direct can target exactly who you are looking for! ADS Data Direct is inclusive, and our data can aid in your business growth no matter where you are!